IMPORTANT NOTICE
SANS is in process of changing course prefixes from "MGT" to "LDR" to keep pace with our brand evolution that resonates more strongly with our core customers. There is no change in course content or pricing. Course books may reflect the "MGT" prefix even for "LDR" classes of the course during the transition. Each "MGT" course will have runs through a specific date (different for each course) and has a corresponding "LDR" page for course runs after that date.
Cybersecurity Leadership - Not Just for CISOs

To be effective as cybersecurity leaders, security managers need both technical knowledge and management skills to gain the respect of technical team members, understand what technical staff are actually doing, and appropriately plan and manage security projects and initiatives. This is a big and important job that requires an understanding of a wide array of security topics. The Cybersecurity Leadership Curriculum develops cyber leaders who have the practical skills to build and lead security teams, communicate with technical and business leaders alike, and develop capabilities that build your organization's success.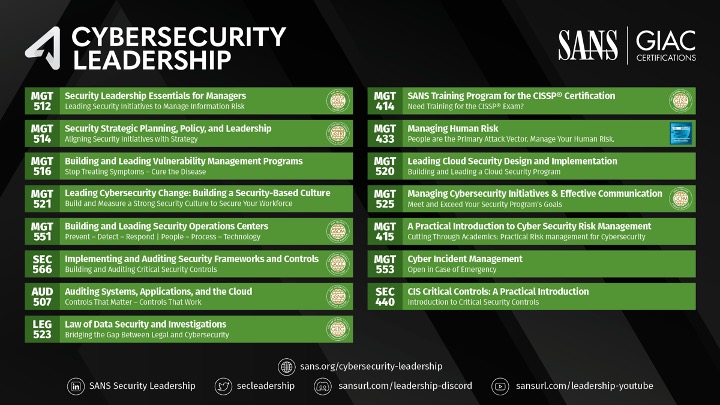 Current SANS Cybersecurity Leadership Curriculum
Download the SANS Cybersecurity Curriculum Brochure
Why Take Cybersecurity Leadership Training With SANS?
NEW COURSE 2023
NEW COURSE 2022
If you are worried about leading or supporting a major cyber incident, then this is the course for you. MGT553: Cyber Incident Management focuses on the non-technical challenges facing leaders in times of extreme pressure. Whilst you may have a full team of technical staff standing-by to find, understand and remove the attackers, they need information, tasking, managing, supporting, and listening to so you can maximize their utilization and effectiveness. We focus on building a team to remediate the incident, on managing that team, on distilling the critical data for briefing, and how to run that briefing. We look at communication at all levels from the hands-on team to the executives and Board, investigative journalists, and even the attackers. This course contains nine (9) case studies for hands-on learning.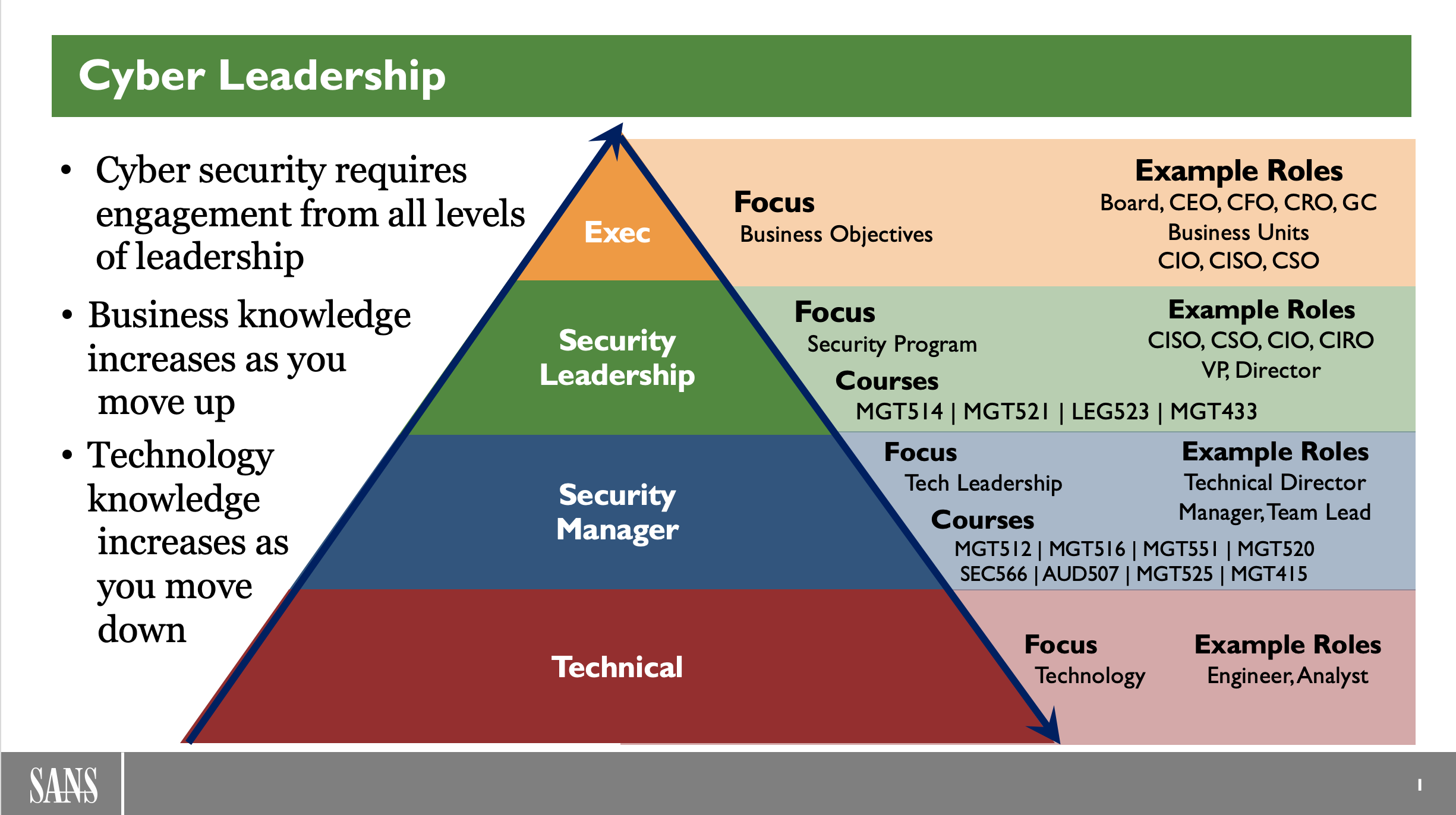 Cybersecurity Leadership
Cybersecurity requires engagement from all levels of leadership throughout an organization. The key differentiator between these various levels is the amount of technical knowledge and business knowledge that is required to succeed. Technology knowledge is invariably greater as you move down the pyramid while business knowledge increases as you move up the pyramid with increasingly more responsibility. Roles and titles will vary across organizations of different sizes and industries but the amount of technical knowledge that an engineer or analyst requires is vastly different from that which a CISO or even a VP of Security requires.
However, as a security leader or manager we are in a difficult situation. We need to have enough technical acumen to understand our team, resolve technical disagreements, and weigh in on appropriate technical direction. At the same time, we must have enough business understanding to convey technical security topics in ways that non-technical leaders can understand and translate business drivers to our teams in ways that they in turn can understand.
That is the focus of this curriculum. To give security leaders both the technical knowledge and management skills to gain the respect of technical team members, understand what technical staff are actually doing, and appropriately plan and manage security projects and initiatives.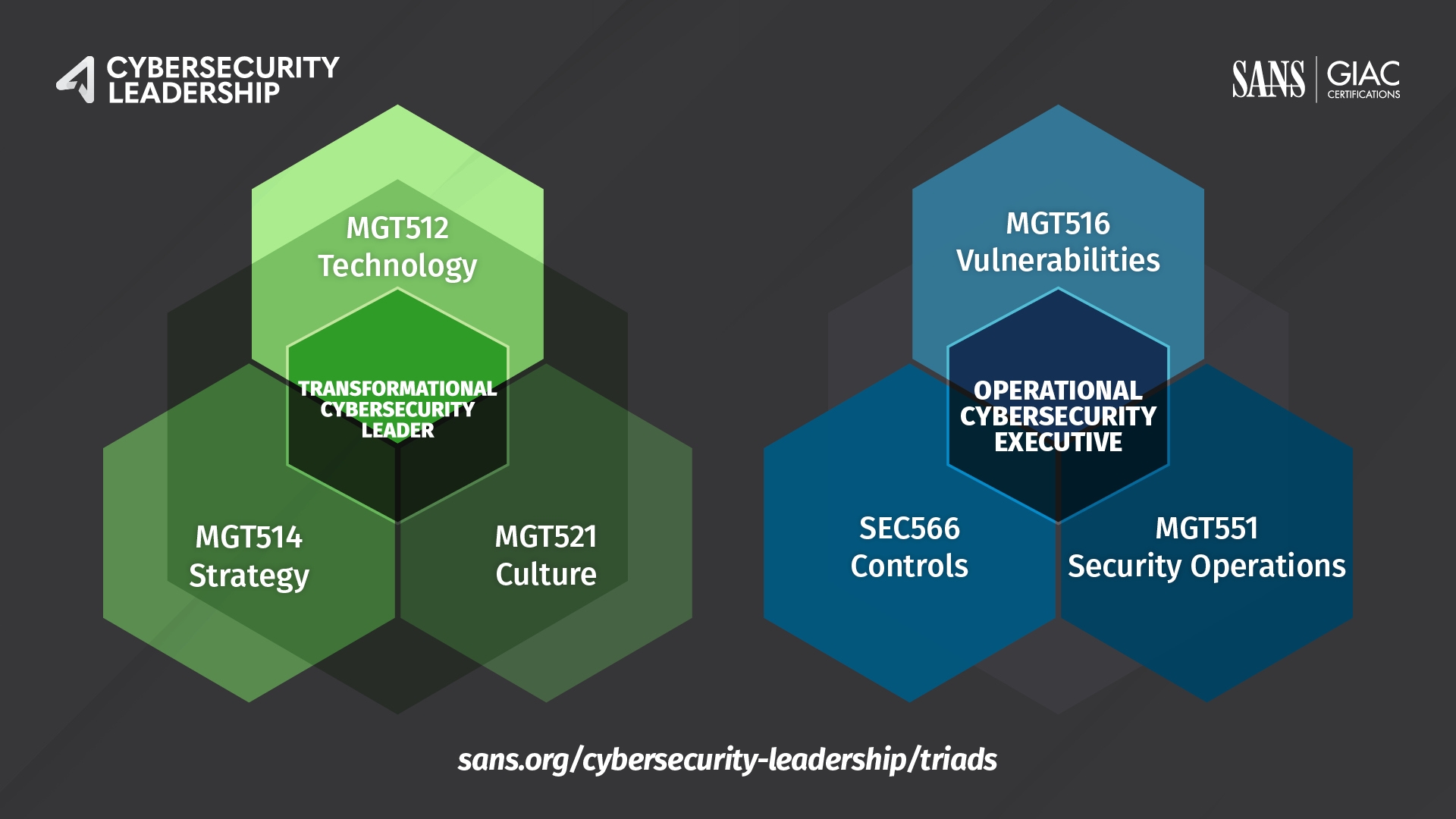 Cybersecurity Leadership Triads
In an effort to help our students find the right path, SANS Cybersecurity Leadership Curriculum has created two triads of courses and certifications that align to help create stronger, more well-rounded cybersecurity leaders. This entire landing page is dedicated to describing these triads in detail as well as providing a series of related resources.
Transformational Cybersecurity Leader - 1 page flyer
Operational Cybersecurity Leader - 1 page flyer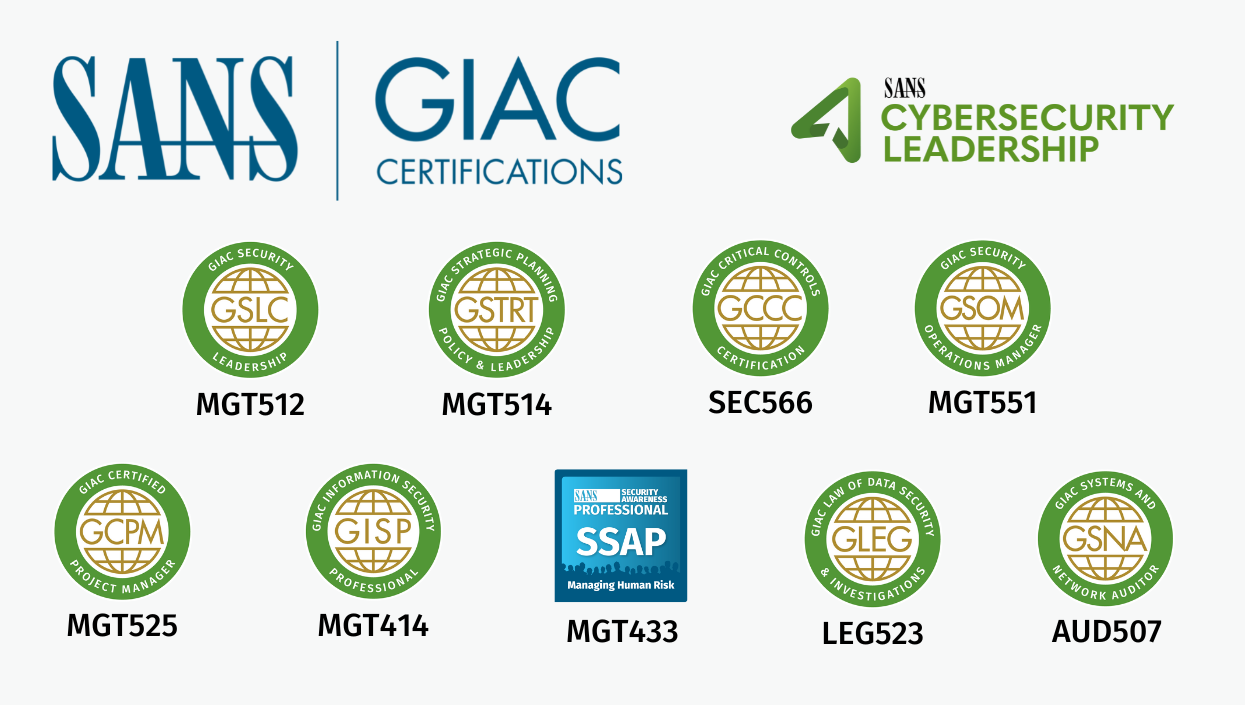 GIAC Certifications*
In addition to courses, we offer eight GIAC certifications, one SSA certification.
*The prefix change from "MGT" to "LDR" does NOT affect any of the GIAC certifications associated with these courses.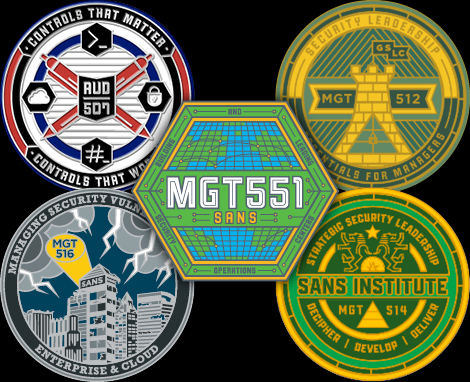 Challenge Coins
Hundreds of SANS Institute students have stepped up to the challenge and conquered. They've mastered the concepts and skills, beat out their classmates, and proven their prowess. These are the elite, the recipients of a SANS Challenge Coin, an award given to a select portion of the thousands of students that have taken any of the SANS courses. More Cybersecurity Leadership Challenge Coins are on the radar for 2023!
SANS Technology Institute | Graduate Certificate in Cybersecurity Management
Designed for working information security professionals, the 15-credit-hour graduate certificate in Cybersecurity Management prepares you to build and execute strategic plans that resonate with business executives, create effective information security policy, design and deploy information security environments, and lead, inspire, and motivate cybersecurity teams. You'll learn from some of the world's top cybersecurity experts, gain hands-on technical and leadership experience you can apply immediately on the job, and emerge with 5 industry-recognized GIAC certifications. A 100% online option is available.

Applications are accepted monthly. Learn more.
SANS CyberTalent Assessments
Whether you are looking to hire new employees for cybersecurity positions or creating opportunities for your existing talent, SANS CyberTalent can help ensure you find the right skills match for the job. According to the U.S. Department of Labor, the cost of a bad hire is at least 30 percent of the employee's first-year earnings - for a security analyst, that's $27,000+. You can't afford to get hiring wrong at a time when talent is increasingly difficult to find. SANS CyberTalent Assessments measure the aptitude and skills of cybersecurity professionals, allowing employers to create professional development and retention programs for existing employees or test and rank the skill sets of candidates to fill open positions.
Learn more about Cybersecurity Leadership Assessments here.
Access Our Free Resources
Course Demos
SANS offers free course demos for all courses available on the SANS OnDemand platform. Browse them here.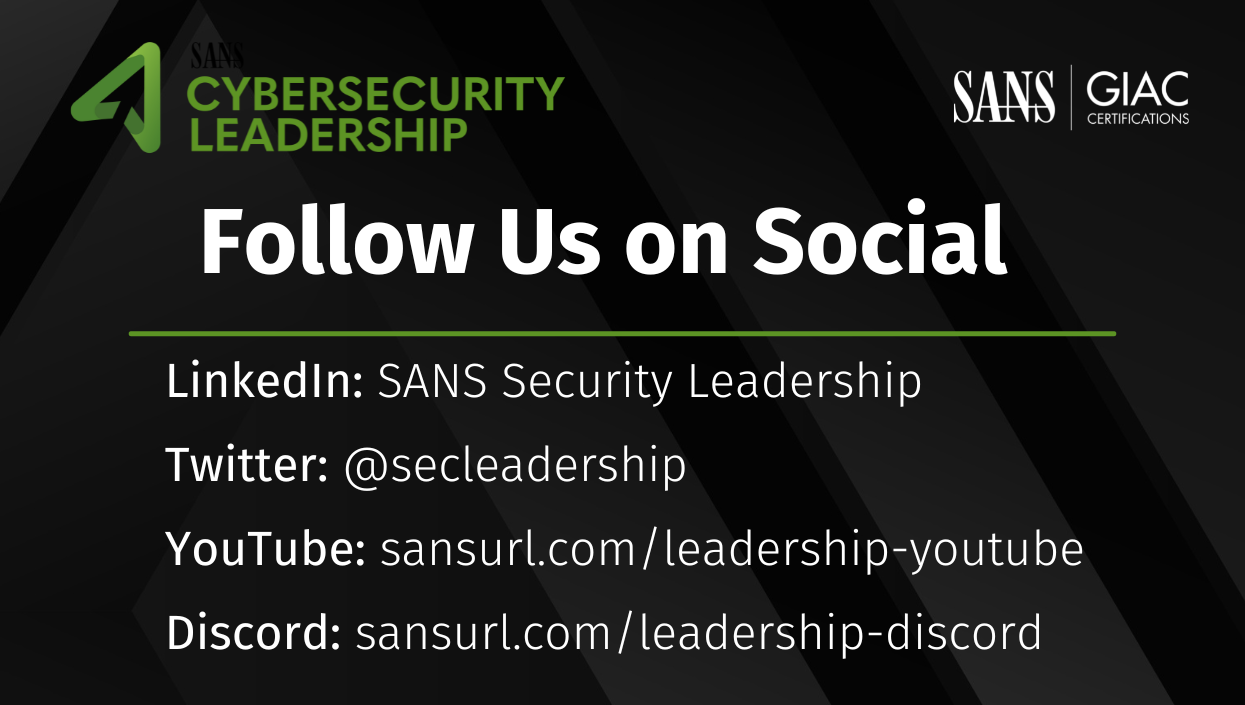 Join Us On Social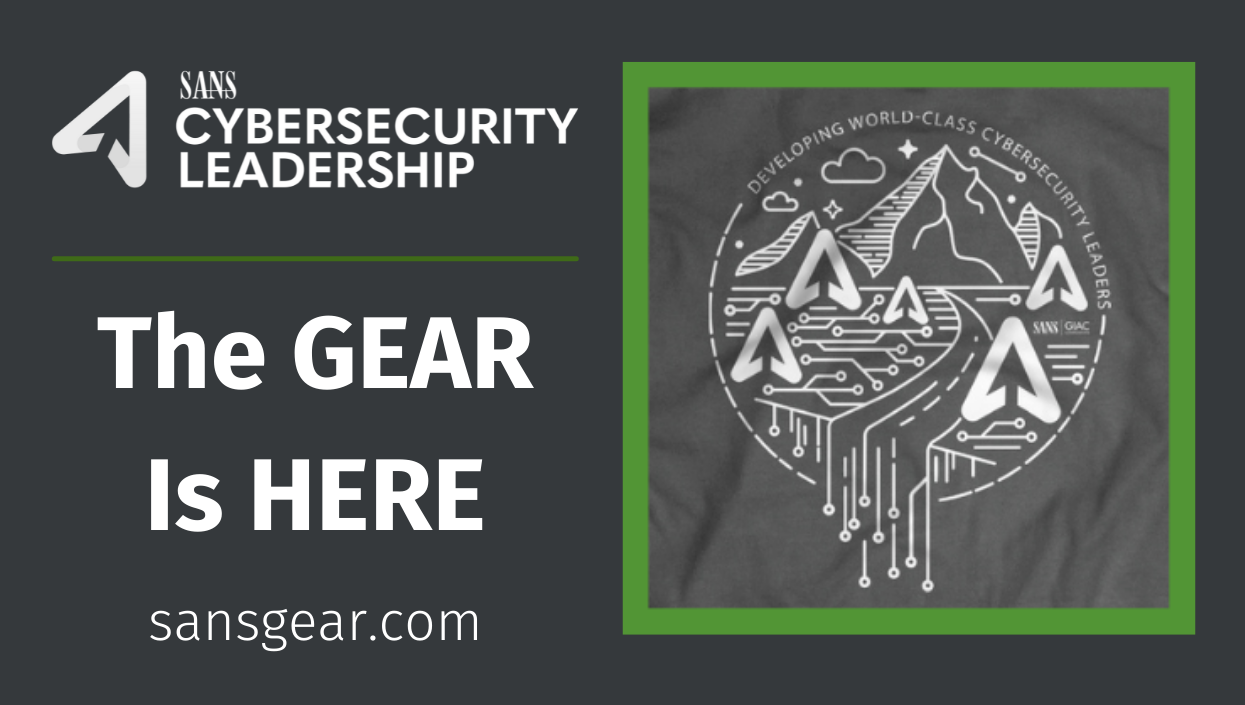 Purchase SANS Cybersecurity Leadership Gear here.
Complete Cybersecurity Leadership Curriculum
MGT414: SANS Training Program for the CISSP® Certification | 6 days
MGT415: A Practical Introduction to Cyber Security Risk Management | 2 Days
MGT433: Managing Human Risk | 3 Days | SSAP
MGT512: Security Leadership Essentials for Managers | 5 Days | GSLC
MGT514: Security Strategic Planning, Policy, and Leadership | 5 Days | GSTRT
MGT516: Building and Leading Vulnerability Management Programs | 5 Days
MGT520: Leading Cloud Security Design and Implementation | 3 Days
MGT521: Leading Cybersecurity Change: Building a Security-Based Culture | 5 Days
MGT525: Managing Cybersecurity Initiatives and Effective Communication | 5 Days | GCPM
MGT551: Building and Leading Security Operations Centers | 5 Days | GSOMMGT553: Cyber Incident Response | 2 Days
AUD507: Auditing Systems, Applications, and the Cloud | 6 Days | GSNA
LEG523: Law of Data Security and Investigations | 5 Days | GLEG
SEC566: Implementing and Auditing Security Frameworks and Controls | 5 Days | GCCC